Corona virus: All manual ticket sales suspended — buy tickets using Vipps
In order to limit the spread of the novel corona virus, Kringom has suspended all manual ticket sales on board buses and local boats in Sogn og Fjordane. Buy your ticket using Vipps.
(See instructions for buying a ticket using Vipps below)
Kringom is dependent on fare revenue to keep public transport services operational. It is therefore important that all passengers obtain a valid ticket for their journey, even though ordinary ticket sales have been suspended. This is a challenging situation and we all have to do our part.
Pay for your bus or local boat ticket in Sogn og Fjordane with the mobile app Vipps. You can pay your fare without coming into physical contact with the bus driver or boat crew. This arrangement was implemented on 18 March.
Practical information:
On buses, all front doors will remain closed — enter and exit the bus through the back door. On buses with a front door only, please be considerate of the driver and maintain a safe distance as best you can.
On local boats, you may ask a crew member for information about ticket prices. Please be considerate and maintain a safe distance from crew members.
Travel card holders:
Youth and periodic travel card holders:
If you have a valid periodic or youth travel card, you can continue using these as normal, except you will not need to ask the bus driver or boat crew to validate your card.
You can use Vipps to buy a new period if needed.
Value card:
You cannot use a value card to pay for your ticket at this time.
These types of tickets are available in Vipps: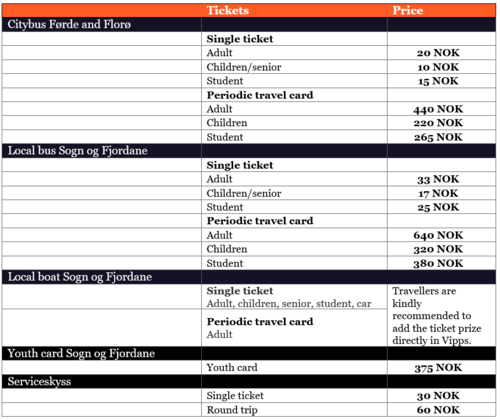 Please note: While these special measures are in place, passengers on local and regional bus routes pay the same fare regardless of distance.
How to buy a ticket using Vipps
Open Vipps
Press Send
Write "Kringom" in the search field. "Skyss/Kringom Vestland fylkeskommune" will come up as an option.
Select Skyss/Kringom.
Select your ticket type
Specify number of tickets and put in basket
Pay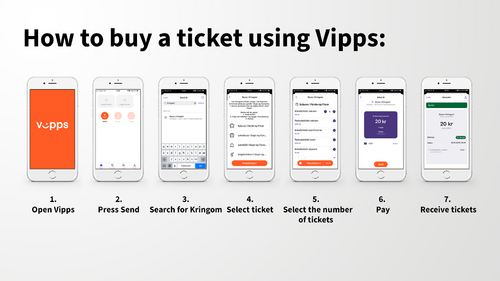 For passengers on express boats or express buses:
Express boat:
Norled has suspended cash payment on board express boats between Sogn/Nordfjord and Bergen. We recommend buying a ticket in advance, but card payment is also accepted. Go to Norled.no to buy a ticket.
Express bus:
Both Vy and Nor-Way have express bus routes to/from and through Sogn og Fjordane.
Vy: Vy has suspended all cash and card ticket sales on board their buses. If you are travelling with Vy, even within Sogn og Fjordane, you must buy your ticket in advance. Go to Vy.no to buy your ticket.
Nor-Way: Cash payment is not accepted on board Nor-Way buses. Buy your ticket at Nor-Way.no. Tickets may be purchased until time of departure, even for passengers travelling locally with Nor-Way within Sogn og Fjordane.
Thank you for helping us reduce the spread of the corona virus!